Many of my acquaintances and friends ask me if they should use WooCommerce instead of PrestaShop for their store.
There are a lot of articles on the web covering this question, but they all seem to compare certain features and opportunities on paper without actually trying to make a working shop of both systems and then provide a real experience and assessment.
Creating PrestaShop store
That's why I decided to personally make a test store for both systems and see how it works.
Since I work with PrestaShop and things are so familiar to me, it was quick and easy for me to create the store within 1 hour, and the store was ready to sell according to all legal requirements.
I know that PrestaShop needs improvements here and there, no doubt about it. But its very simple yet very powerful system. PrestaShop team develop features and technologies super fast. In fact maybe it is too fast. This is why many PrestaShop users have critiques. The team need to focus more on slow down the leaps in tech. They should polish more and focus on stability. In terms of security, i believe PrestaShop is one of the best if not the best. For over 10 years i have never seen hacked PrestaShop store. I have seen only one or two security patches. I cannot say the same for WordPress tho.

Creating WooCommerce store
Then I started working on my WooCommerce store. The installation went quickly and easily without any problem. I actually liked the welcome tutorial setup. Тhe first thing I noticed almost immediately is that I did not see an invoices option or menu.
Since this is a very basic but mandatory feature if you want to sell legally in Europe, I decided I was missing something, and after a while searching thru the menus, I was convinced that the invoice function was really missing.
I decided to contact the official WooCommerce support and ask them how can i export my monthly orders and give it to accountant for example. The support told me that I can export the orders as an XML file that I can deliver to my accountant, and if my accountant has an ERP software he can import them from that XML file.
But what if he don't have such system? I contacted support again and they told me about third party plugin that offers the possibility of invoices for $79 per site.
The same is also valid for EU VAT plugin, 29$ per site. Pretty quickly i realized that you cannot sell legally in Europe with WooCommerce right out of the box for free. In order to that, you need third party plugins, which in my view at least it is a risk as what if the third party developer stop updating or supporting this plugin?
Also will you put your entire online business in the faith of some third party developer that you don't know anything about? In PrestaShop EU VAT, B2B, Invoices and GDPR comes free with the system. Instead of paying 100$ for VAT and Invoices plugins, you can use this amount or less to buy professional PrestaShop themes design for your store.
Final thoughts
After playing a little bit more with WooCommerce I found out that there are a lot more functions that are missing. To name a few: There is no business to business mode, no multi-vendor and multi-shop. Also missing customers service support and ticket system. No contact form, you cannot export customers and orders in normal way. Lack of Invoices, Credit Slips, Delivery Slips, Product Combinations, Product Brands, Product Suppliers, Product Conditions. No product Customization and attachments, ISBN, UPC Barcode, EAN-13 or JAN barcode, GDPR module, EU compliance module.
The list goes on and on, maybe would be easier to say what WooCommerce have than what is missing. Also big disappointment is the lack of multi-language. PrestaShop comes with native multi-language support while WordPress and WooCommerce don't. You will need to manually translate every third party plugin that you will buy for WooCommerce. At this point you can easily see that PrestaShop vs WooCommerce, both systems are just not comparable. They are vastly different aimed at different target of users.
How PrestaShop officially compares both systems PrestaShop vs WooCommerce: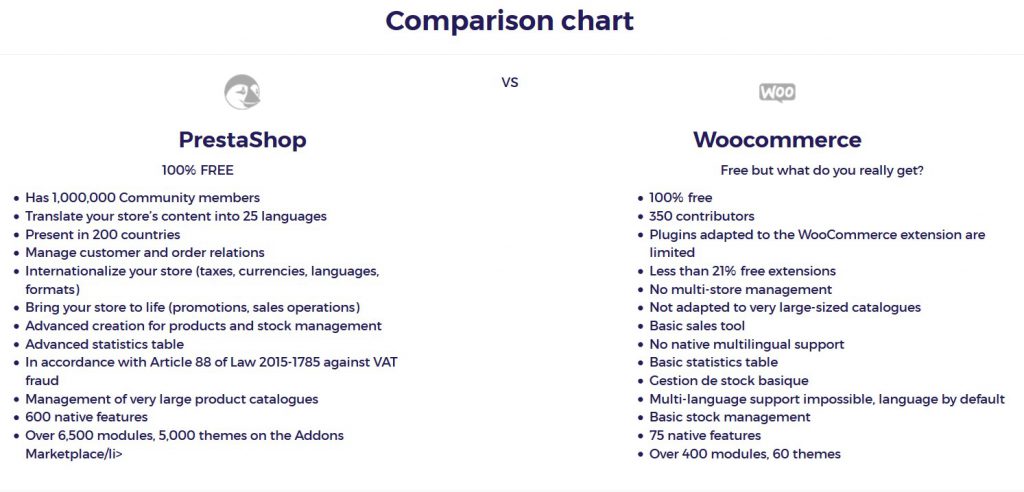 In summary: PrestaShop vs WooCommerce
PrestaShop is full fledged powerful e-commerce software. It will handle all the legal requirements and provide a lot more features. You can easily use in any language so you can start sell your products immediately and for FREE! Without the requirement for any additional investments. Security is superb as it should be for an e-commerce software. if you are serious about e-commerce and you don't have huge budget you should use PrestaShop.
WooCommerce on the other hand, is just an e-commerce plugin for WordPress. Provides you with the possibility to start selling products easily if you already have website built on WordPress and you just want to sell or showcase limited amounts of products and product options without installing a whole new software for that purpose. To meet the legal requirements at least in EU, and provide some basic functionality you will have to invest money in third party plugins.